Only have 1 month left to raise the remaining funds needed to close the sale and secure the structure!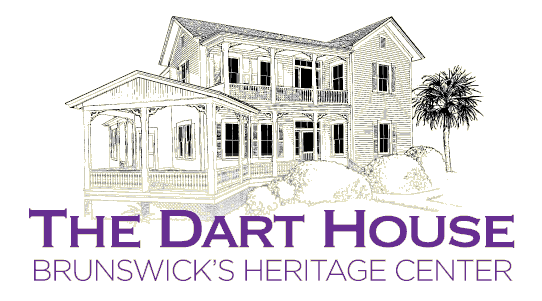 Brunswick's Heritage Center will include:
• The starting point for Brunswick's Historic Driving Tour • History Museum
• Site School for UGA Historic Preservation Students • Special Events Venue


Your donation is urgently needed!
At the gateway to Gloucester Street, the Dart House stands at 4 Glynn Avenue where it was built in 1877 by William Robert Dart, son of City of Brunswick founder Urbanus Dart.
When constructed, this grand home gazed out over Dart Creek and the landmark Lanier Oak where Sidney Lanier was inspired to create his famous poem, The Marshes of Glynn. The Lanier Oak still stands tall in the shadow of the Dart family home today.
Spanning over three centuries, the Dart House has held steadfast against peril. This house survived the 1898 Hurricane as documented in the 1898 photo housed in the Georgia State Archives. It survived decades of economic upheaval and continues to be a testament to Brunswick's tenacity in times of struggle.
Taylor Davis, Chair of HBF, states, "The Dart House is one of the few and precious structures remaining that represent the era of rebirth that the City of Brunswick experienced after the Civil War, as well as being prominently situated as a focal point in the Gateway to Brunswick and the Golden Isles."
In 1983, the Brunswick-Golden Isles Chamber of Commerce purchased the house and property from members of the Dart Family to restore and use for their office and meeting space. In 2013, the Chamber, having outgrown the Dart House space, relocated to their current headquarters on Richmond Street in Downtown Brunswick and placed the Dart House on the market in June of 2014.
The Dart descendants, the Chamber of Commerce and the Historic Brunswick Foundation are proud to be partnered in the effort to pass along stewardship of this historically significant structure to HBF for its continued use in serving the community.
It is now time for the you to get involved. You can mail your contributions to Historic Brunswick Foundation, P.O. Box 426, Brunswick, GA 31521 or click the Donate button below to donate securely online.
• Click to see Southeastern Photography's photo album of The Dart House
Video courtesy of iMint Media.